TEXAS SCHOOLS CHOOSE MACKIE DRM LOUDSPEAKERS FOR POWERFUL SOUND ON THE GO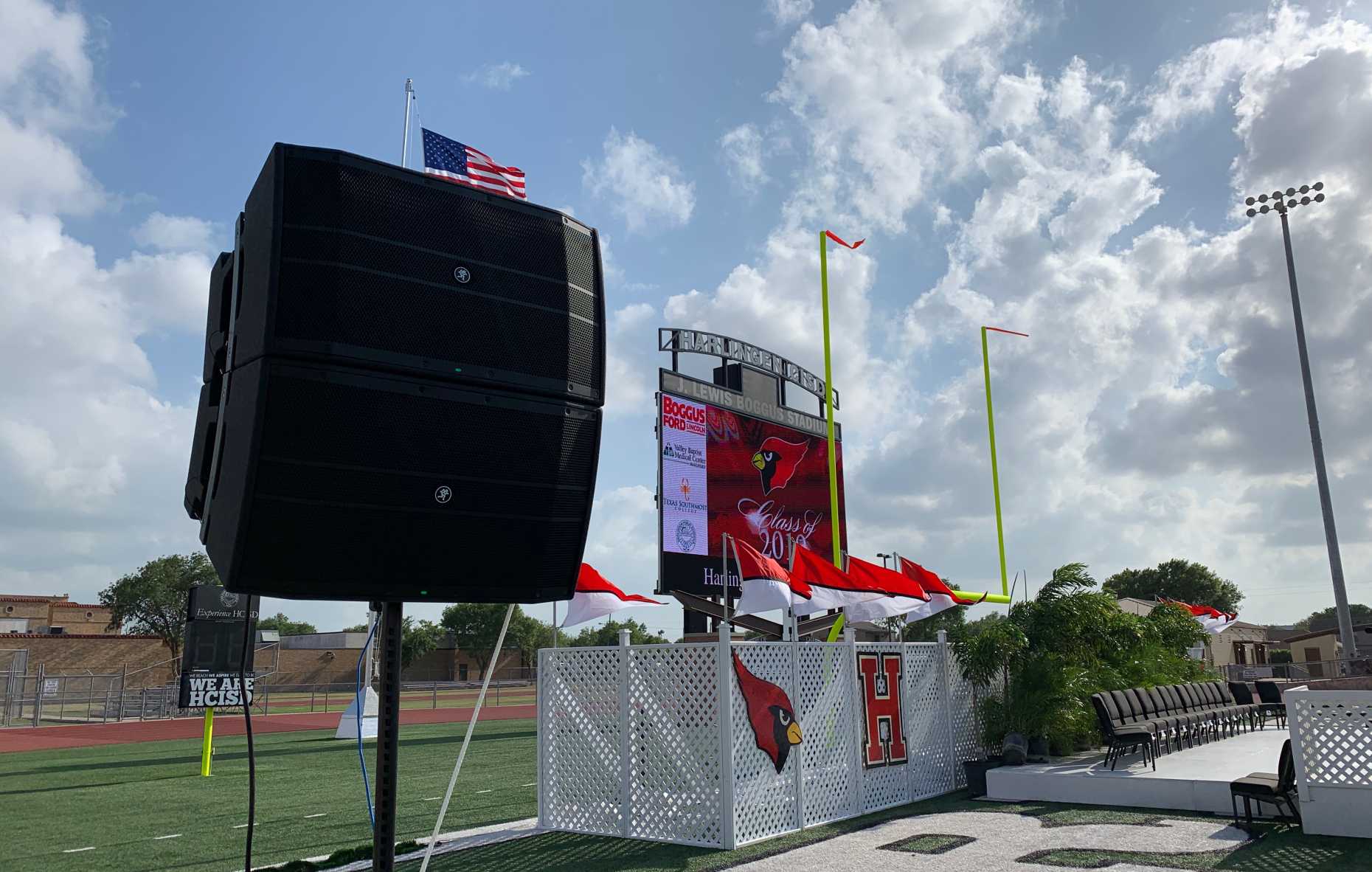 Harlingen, TX-July 2019... The Harlingen Consolidated Independent School District (HCISD) puts student experience first. So when the school district built a new Performing Arts Center (www.hcisdpa.org) and sought a portable sound system that could serve multiple needs, school district audio engineer Juan Restrepo recommended Mackie DRM Professional Powered Loudspeakers.

"Our intent was to create a portable reinforcement solution that could be housed at the Performing Arts Center but moved around the district as needed for specific events at various schools," the Colombian native and Berklee College of Music alumnus explains. "I was given a budget, and I went to the NAMM Show to shop for solutions. I was blown away when I heard a demo of the Mackie DRM loudspeakers! I'd come in with a different system in mind, but once I heard that demo, it was a no-brainer."

Restrepo decided on a system comprising eight Mackie DRM12A arrayable powered loudspeakers, each with 2,000W of Class D power; a 12-inch high-excursion woofer; and triple 1-inch titanium-diaphragm compression drivers. He also chose two DRM18S powered subwoofers, which feature 2,000W of Class D amplification driving 18-inch high-excursion woofers. "We use two carts," he reports. "Load-in is very easy, with one sub and four tops per cart. Before we purchased this system, I had to deal with gym sound systems, which were very limited in the way I could work with them and set up what I wanted. With this option, I know that when I roll in the carts, I'm going to have high-quality sound."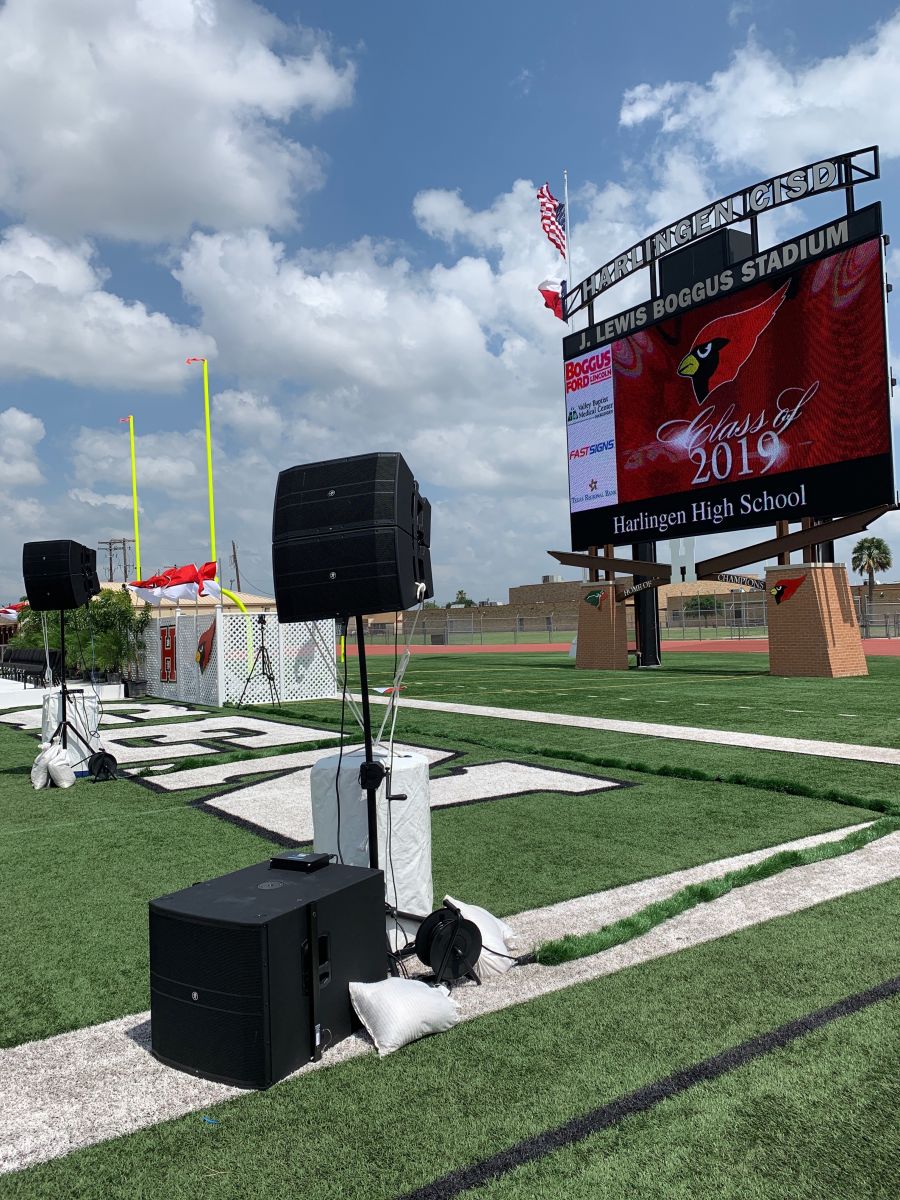 Restrepo is quick to point out the main reason he loves the DRM loudspeakers: the sound they deliver, even in very demanding applications. "I was blown away by the frequency response at high SPLs," he praises. "I have to push these speakers hard in the stadium, and usually a speaker running at high SPL loses some fidelity. I liked the sound of the DRM loudspeakers so much that while my original plan was to have them all against the Visitor side in our stadium, instead I put them all in the end zone to reinforce the original scoreboard speaker, with independent control over each element. They were well balanced, even running flat without any onboard EQ; I just loved them! I know loudspeakers can be loud-that's what they do. But for me, it's much more crucial to have a really good balance across the frequency spectrum, the lows versus the highs, and the DRM was the clear winner out of all the demos I heard at NAMM."

The flexibility offered by the DRM Series' integrated hardware mounting options proved another benefit. "For example, at graduation, we use stands with two DRM12A loudspeakers per stand, fed by a Dante network with single-channel AVIO encoders and decoders," Restrepo details. "I really appreciate the flexible angling options on the DRM12A; at the stadium, I can set some of them to aim high and get sound to the bleachers, while others are angled to get sound to visitors down on the turf. That's some very smart engineering."

Another important use for the system is the school district's Jazz Festival, a well-known regional event that involves multiple schools. "The Jazz Festival is divided into two venues: the Performing Arts Center and the cafeteria at GMS middle School next door," notes Restrepo. "While we have an installed system at the Performing Arts Center, the Mackie DRM carts allowed us to produce exceptional sound next door as well. One sub and two pole-mounted loudspeakers per cart gave us great results."

Flexibility and easy setup were key to Restrepo's decision. "I was very impressed with the DRM Control Dashboard™, which allowed me to quickly set up my crossovers and other DSP right on the speakers. It was very easy to run through my settings-really useful! I love the fact that you can choose your EQ curve based on how many loudspeakers are in your array, whether it's one, two, or four."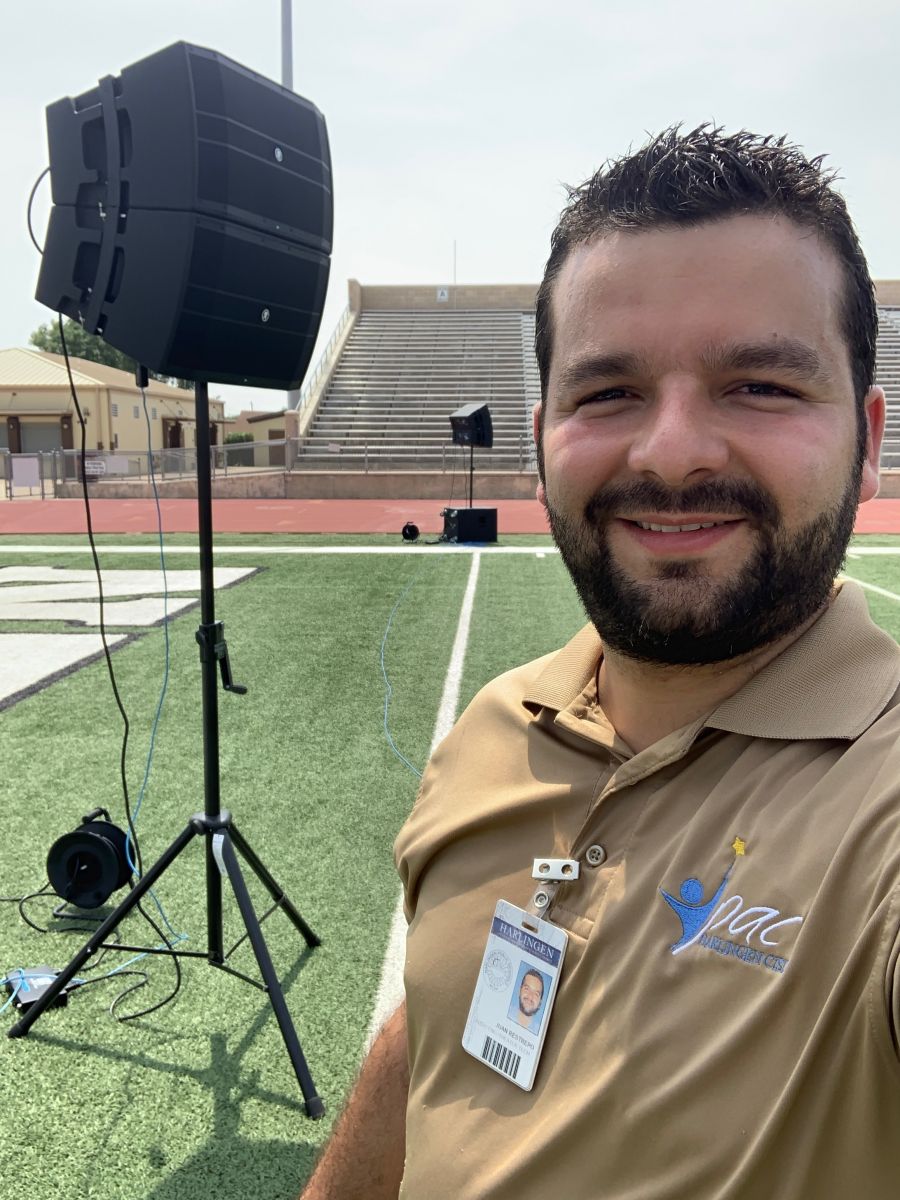 "Having a system that could come in at a proper budget but with the right quality in both audio and reliability was a key factor in my decision," Restrepo concludes. "The Mackie DRM loudspeakers are incredibly sturdy and well-built, and just sound amazing. And in the end, it's all about the students. They deserve the best possible listening experience, and the Mackie DRM delivers that.